Eight out of 10 shoppers are focused on borrowing power, energy warning sparks are scrambling for solar, and burglar alarms are no match for man's best friend. Here are five things you may have missed this week.
Borrowing power tops homebuyers' concerns
NAB's latest real estate survey shows that borrowing capacity is the most important factor homebuyers weigh in today's market, with 82% concerned about how much they can borrow.
Borrowing capacity concerns may be well founded.
A 0.5% rate hike can wipe tens of thousands of dollars off a homebuyer's loan limit – and NAB expects the RBA to raise rates further in the coming months, bringing the cash rate at 3.1%, against 2.6% currently.
Andy Kerr, head of homeownership at NAB, said: "In a rising rate environment, where people don't know when the rate hike cycle will end, Australians are more cautious about what to expect. 'they can afford.'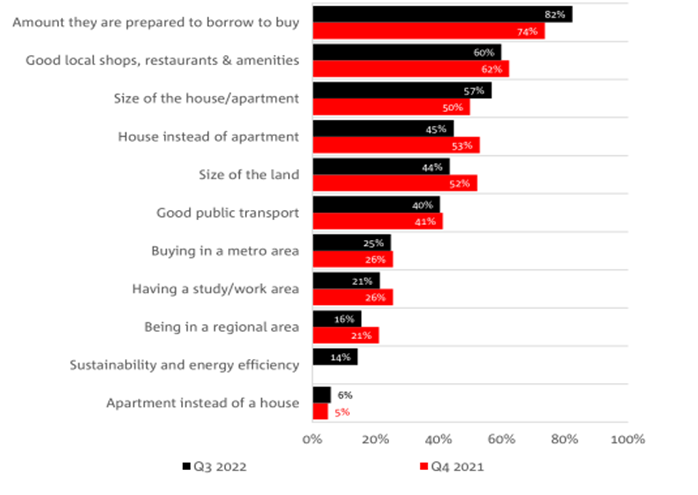 Fears of soaring electricity bills spark interest in solar
When Alinta Energy boss Jeff Dimery warned this week that retail electricity prices could skyrocket by 35% next year, it sent a stampede of Australians rushing to check out options solar.
Solar Quotes reports a spike in consumer interest, saying its web traffic is "off the beaten track".
Homeowners who install solar panels can benefit from rising wholesale energy prices, as it can mean higher feed-in tariffs. This is the payment homeowners receive for the excess solar power they feed back into the power grid.
The downside is that solar panels can be expensive.
The Clean Energy Council says it can cost anywhere from $2,800 for a 2kW solar system to over $14,000 for a 10kW system.
In addition to feed-in tariffs, homeowners may also be eligible for a variety of state and federal government incentives, including rebates, low-interest loans, and even smaller free systems for people with low incomes. low income that all make solar affordable.
According to Energy NSW, solar panels can reduce electricity bills by $600 a year – a saving that could be much higher if Dimery's prediction proves accurate.
Fido outsmarts burglars
More than half of Australian homes could be prime targets for burglars.
Compare Market indicates that the majority (57%) of households have no form of home security to deter thieves. Yet 171,400 homes experienced an attempted break-in between 2020 and 2021.
Compare Market General Insurance Managing Director Stephen Zeller says: "With more Australians returning to the office for work or leaving their homes vacant while they take holidays, this creates a perfect opportunity for brazen thieves. "
If you're serious about home security, a family dog ​​might be your best bet.
A study by the Australian Institute of Criminology found that less than one in two convicted burglars said an alarm system would stop them entering a property, but 60% would bypass a house with a dog.
A professionally installed and monitored home alarm system can cost up to $4,000, often with monthly monitoring fees of $15 to $60. A homeless dog, on the other hand, can cost you just $480 from a rescue shelter.
It's off to London
Buckingham Palace has announced that the coronation of King Charles III will take place on May 6, 2023.
If you plan to attend the event, it may be beneficial to book flights and accommodation in advance.
Queen Elizabeth's funeral saw air fares to London double in some cases, and surging demand pushed the average hotel rate per night in London up from A$390 to A$613 according to Reuters.
A check of Qantas flights shows return fares from Sydney to London in May 2023 start at around $2120, although there are only a few seats left at that price.
Webjet reveals that $1,555 return flights are available with SWISS, but only if you don't mind the trip taking up to 65 hours.
Or, you can follow the example of Prime Minister Anthony Albanese, who took a private flight to the UK for the Queen's funeral.
Charter flights from Sydney to London cost around $388,000 return (yes, you read that right), so this is only an option for the most dedicated (and well-heeled) fans of royalty.
Retirement fears are on the rise
Three in five Australians fear they won't have enough to retire, up from two in five in 2020.
That's according to AMP research that shows fears of running out of super prematurely have been exacerbated by the rising cost of living. The advantage is that more of us are thinking about our retirement plans.
Only 40% of AMP respondents did not consider planning for retirement, compared to 60% in 2020.
Ben Hillier, managing director of retirement solutions at AMP, says it's encouraging that more of us are considering retirement, but adds that people's fear of running out of super stems from "a fundamental lack of understanding – a lack of awareness – of their finances and of the pension system".
He adds: "Information and support are readily available and simple steps can help Australians feel more comfortable and confident about retirement."
Your super fund can be a source of free or inexpensive advice on how to grow your nest egg.
Get stories like this in our newsletters.